Your name: Thomas "Mato" Blanchot
You live in: Paris, France
Your current album: Scary Dub


What is your personal definition of Dub?
I would say Dub is sound art. It's a unique style that takes total control of the track - both in terms of composition (through edits) and mix (through effects). What we know today as a remix has its origins a long time ago in Dub. The prerequisite for this was a new kind of artist: The Dub-Mixer. In fact, the Beatles paved the way for it when they fired their sound engineers and took control of the recording technology themselves. The studio itself - that is, equipment including sound engineer - is undoubtedly a full-fledged member of the band when music is recorded. The sound tracks then become material that can be shaped without limits; similar to the improvising style in jazz. Ultimately, every moment is about refining every note or melody.
"Different styles of music as reggaeDub to adapt - that is my trademark. "
need Dub a reference, such as a vocal counterpart, or can it be created as an end in itself in the studio?
At the beginning there was the edited version of a title. These are the roots of Dubwho became his own style as the repertoire grew. Producers like Mad Professor or Jah Shaka, on the other hand, have their own Dub-Tracks recorded and not used on pre-existing material. I see my productions somewhere in between; I look for well-known titles that can be easily adapted and then produce them from scratch - only about them dubto be able to practice. So I absolutely need a reference to my work and see Dub as a counterpart to something that already exists. However, my references are not found in reggae; that's the special thing about my work.
Of course you can do everything dubben - some styles are better suited for this than others. A hypnotic, melodic reggae bass can drop the listener into a trance for hours, while a harmonically supportive pop bass does not have this capacity. A melodic bass, the rhythmic skank and the placement of drum fills are, however, undisputed elements of a successful one Dub-Recipes.
"I see Dub as a counterpart to something that already exists. "
Is there a basic requirement for Dub-Production?
Knowledge and a feeling for the culture is always a good start - knowing which techniques are available and in which recordings they have been used so far is immensely enriching and provides orientation. I have hours and hours Dub Heard until my ears were bleeding. The further way one Dub-Novice is to learn and try to reproduce the classics of the genre. When you have digested it all and done it, then you "are" Dub, then you can express yourself in this art. Whoever masters the sound can tell a story without words.
How does the creation process of a typical Dub-Tracks from Mato?
Different styles of music as reggaeDub to adapt - that is my artistic identity, my trademark. And it's a good resource, the genre of music Dub To introduce people who have a completely different musical horizon. With familiar melodies I not only arouse feelings and memories, but also curiosity. It's my way of keeping music universal and my audience diverse; I and my productions cannot be taken over by a single community.
The melody is mine Dub-Adaptations. I need a fascinating melody that I fine-tune through tempo and arrangement. The rhythm has to flow of course: whether steppers, rockers, one drop - if it doesn't fit, it will be changed again. It is important not to dilute the intake; it has to remain an adaptation - by no means a complete transformation.
"The melody is mine Dub-Adaptations. "
Everything is recorded live on my recordings and no samples are used. I play keyboards, drums / percussions and bass myself; other musicians can join in if necessary. Occasionally, over the course of time, I was able to acquire a wide range of sounds and a wide variety of instruments - such as percussions, vintage synths, SynDrums and the like.
The best part of my job, however, is the mix: Coming from the old school, I've worked with different boards and techniques. I've only been using Pro Tools for 15 years; it allows me to revise the mixes as long as necessary. I also use a lot of old equipment like the Roland Space Echo RE-201, various spring reverbs, vintage phasers, self-made things, etc.
Mato productions have a typical, "clean" sound that reminds me of productions from the early 1980s - is that intended?
I'm a big fan of the 70's and 80's sounds, but don't want to imitate them - I just try to adapt the soundtracks to my own hearing. Anyway, I'm a big fan of the Channel One sound - that's my personal milestone to be reached. This sound still benefits from the glow of the 1970s, but already has a clearer, more precise sound. Add a small dose of "2.0" and the Mato sound is ready.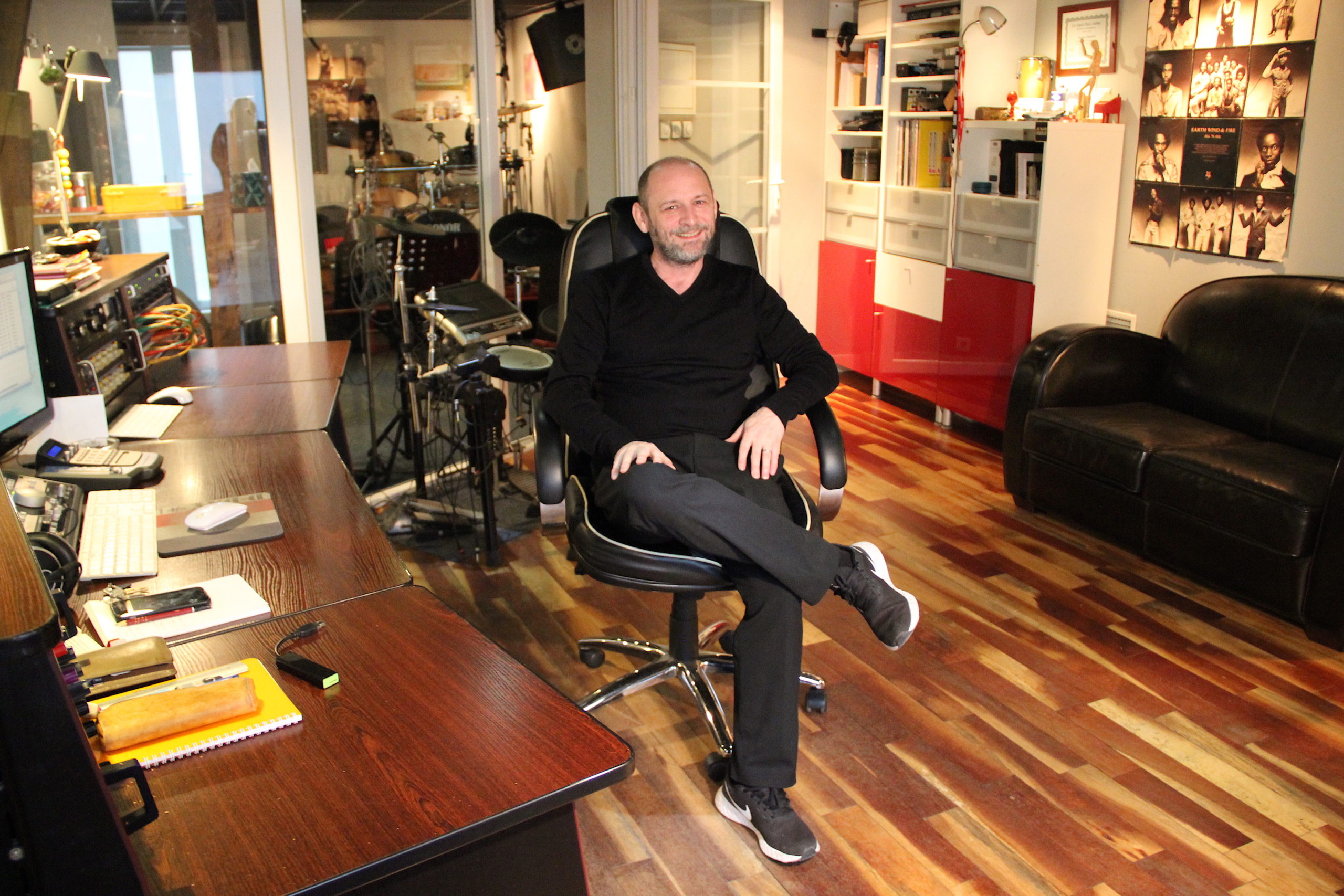 The drums on your recordings have their very own, unmistakable sound - soft, but with a heavy punch. Let me guess: You play the drums yourself.
Right! I started playing when I was 13 because my brother needed a drummer for his band. After some experience I founded a reggae band - or rather: an orchestra with a brass section and all the trimmings. That was an important lesson for me not only in music: to hear the others, to perceive one another.
After school I started to study drums - first in France, then further in the USA, where I graduated from the Los Angeles Music Academy in 1998. So I'm first and foremost a drummer who plays his riddims. I adjust and tune my drums precisely to get the sound I want. This is probably the most time-consuming work in my productions, but it is the origin of my own sound identity. The drums must always be present and precise; They can only be bumpy when I'm doing hip-hop (I'm a big fan of Dr. Dre). So the secret is out: behind an album by Dub Mix producer Mato is actually a drummer's album!
Your productions don't have the extra-heavy bass that you would expect from Dub expected. He seems rather reluctant, possibly to adapt to European listening habits. How important is sound to you in general?
As with any genre of music, there is a Dub different possibilities and never just one way to get to the goal. Even if I use all means, I can still bring in my own style. As a drummer, I love powerful bass - there is nothing more effective in my music than the sub-bass because I use it. But unlike other styles where the bass is mixed in the foreground, I prefer the traditional, balanced mix. I wouldn't see that as Europe-related ... my audience is all over the world.
Your ingenious version of Daft Punk's "Homework" blew my mind at the time and I also really appreciate the albums that followed. Where does your inspiration come from, how do you choose the themes for your concept albums?
Thanks for the kind words. As I said - basically I'm a drummer, and as an instrumentalist it's hard to get a foothold in the international music scene - even if you have mastered a lot of different styles. I am in the fortunate position of being able to pack everything I like into my music: The drums are my superstar; Melodies are completed with echoes, sound gimmicks, delays and many other effects - wonderful!
"The drums are my superstar."
I'm looking for appealing concepts that allow me to implement my musical ideas. I started with two albums with reggae covers of classic French chansons (note: "Il est cinq heures, Kingston s'eveille 1 and 2"), To which the corresponding Dub-Albums followed (note: "Il est cinq heures in Dub 01 and 02"). Then I produced four reggae hip-hop remix albums that made me known internationally. In the end, I started the series of concept albums, which I've been expanding ever since. Fortunately there is no lack of inspiration - work on the next album has long since begun.
I usually start with a concept idea - whereby it is important that the titles in question have strong melodies, can be transferred to the reggae rhythm structure and ... yes, are also spiritually acceptable. With simple sound gimmicks, titles like "Close Encounters of the Third Kind" are created Dub"Or elaborate, complexly arranged pieces like" Enter the Dragon Dub"(Note: both from"hollywoo Dub"-Album).
"My Holy Grail is the 'Classical Dub'-Album."
The current "Scary Dub"Release can definitely be used as a sequel to" Hollywoo Dub"See, even though it wasn't originally planned. My "Holy Grail", however, is the "Classical Dub"-Album - it took me an infinite amount of time and energy, classical music as Dub to adapt.
At the "Homework"The manager of Daft Punk contacted me about the album and asked for a copy in advance. I was very nervous and expected a "no way" for an answer - Daft Punk had a reputation for being tough when it came to their music. In the end, they only asked if you could play the album at a party - the part was approved!
The tracks from "Scary Dub"Look to me like short comic strips with all the horror sound effects. Do you agree with me or do you see the tracks in a different light?
I absolutely agree. Like in the dubblog.de review very well explained, I am a concept artist. My concept albums invite you on a journey with unforeseen events; An acoustic adventure, so to speak, within a given framework, which is clearly new in its form.
If the concept is to score from horror classics as DubTo adapt s, the lightness of humor naturally offers an interesting perspective on it. Aren't fear and happiness two uncontrollable twin emotions? It's important, however, not to denigrate the music itself - I have a lot of respect for that.
In my "Dub Top 5 "by the way, there are two albums that are one of my sources of inspiration and fit very well with my own work - Mikey Dread's" African Anthem "and" Scientist Rids The World Of The Evil Curse Of The Vampires ". Without a doubt, I have always been deeply impressed by the Scientist concept albums produced by Henry "Junjo" Laws!
The reviews of "Scary Dub" on dubblog.de have received good feedback - apart from the criticism that some of your Dubs are too short and end with fade-outs - or are these tracks, which are only +/- 3 minutes long, part of your success?
I'm old school - even when I combine opposing styles of music, I want to keep the classic stylistic devices. My stories are short but substantial - also so as not to lose the listener's attention. We tend to wander, for example, when someone talks too much or too long. In this respect: yes, the short pop format is probably part of my recipe. Ultimately, it's always about the story - which you can arrange to end with an exclamation point or an ellipsis. I interpret these fade-outs as a dream that evaporates and disappears.
"The short pop format is probably part of my recipe."
What does the future hold for Mato? Is there a concept for the next album, would you like to comment on it?
The new project will be a soul / jazz / funk tribute that is very close to my heart. Last fall I released a first single from it - one Dub-Adaptation of Herbie Hancock's "maiden voyage"And a new version of"Thus spoke zarathustra", Which is inspired by jazz pianist Eumir Deodato. Next up are 45s from Kool & the Gang, Bill Withers and certainly more singles before the album is released. Stay tuned, this is going to be great!
Will there one day be a Mato album that will take place Dub-Adaptations contains original material you have written yourself?
Yes, and the project is already finished: an EP with 4 tracks, all of which I composed myself. It's a mix of my favorite styles: Reggae /Dub-Jazz / Soul / Funk and Disco. And this time the tracks are at least 5 to 6 minutes long and intended for use in clubs. On "Scary Dub"By the way, there are already three titles I have written to complete the album. Unfortunately, there are no instantly recognizable melodies for Dracula, Frankenstein or the mummy - so I wrote some myself.
If time and money didn't play a role - which project would you like to realize?
In fact, I always had to work with what was available. My first Dub I recorded it on a 4 track tape; with a microphone for the drums, a Roland synthesizer and a delay pedal for the guitars. Today I have a well-equipped studio, but the musical idea is still worth more than all the equipment.
"The musical idea is still worth more than all the studio equipment."
I am now in the fortunate position that I can do what I love and also work with a label that supports me in all of my decisions. It allows me to share my music with as many people as possible - which is a project in itself.
The "Classical Dub"-Album taught me that it takes time and experience to consider classical music with some flow Dub implement; that's why I'm planning an operaDub Project - actually more of a musical comedy that I would like to realize one day. This also requires more inspiration than financial opportunities; it should "only" be an album and not a live show. It's going to be a demanding project. Let's see how it develops.
How do you see the resurgence of Dub and roots reggae that has been taking place in Europe for some time? There are many European productions that sometimes sound more authentic than the current Jamaican output.
It is great! Music from a small island infects the whole world and you don't even need vaccinations against reggaemylitis!
Jokes aside, Jamaica is a very poor country and violence is ubiquitous on the island. Current productions are an expression of this present and the Jamaican government doesn't support roots & culture - on the contrary. Thank goodness there are many ambassadors around the world who keep Roots & Culture alive: Reggae musicians, singers, producers, sound systems, labels and sound engineers can be found everywhere - and they set standards. It's just like every creation: Ultimately, it escapes the Creator and becomes independent.
Who do you think is the greatest Dub-Artist of all time?
There are so many talented artists out there today and each of them has their own heroes - for me it's the ancestors, the inventors of the Dub: Scientist is probably my sound role model, but King Tubby is the creator of the Dub- Art as we know it today. Paul "Groucho" Smykle is my third Dub-Hero - you don't even need to read the credits if you like your stunning Dub Mixes listens. They are immediately recognizable from the very first bars. What an art, what a skill, what a finesse! It's a shame that Groucho didn't go further down this path.
And who is currently the most interesting Dub-Artist?
There are now a number of bands in Europe that Dub also perform live - with videos, light choreography, etc. You have developed a very modern style that can keep up with current mainstream music performances.
What are your personal top 5 Dub-Albums?
It was very difficult for me to choose - the list of my topDub Albums is very long. Here is an attempt to name the five most important:
Scientist - Scientist Rids The World Of The Evil Curse Of The Vampires
Black Uhuru - The Dub Factor
Mickey Dread - African anthem
Sly & Robbie - A Dub experience
King Tubby & The Aggrovators - King Tubby's "Controls"


Editor's note: For the sake of the fluency of the language, we did not use gender in this interview.